The Historie of the Reformatioun of Religioun within the Realm of Scotland ... Together with the Life of John Knoxe the Author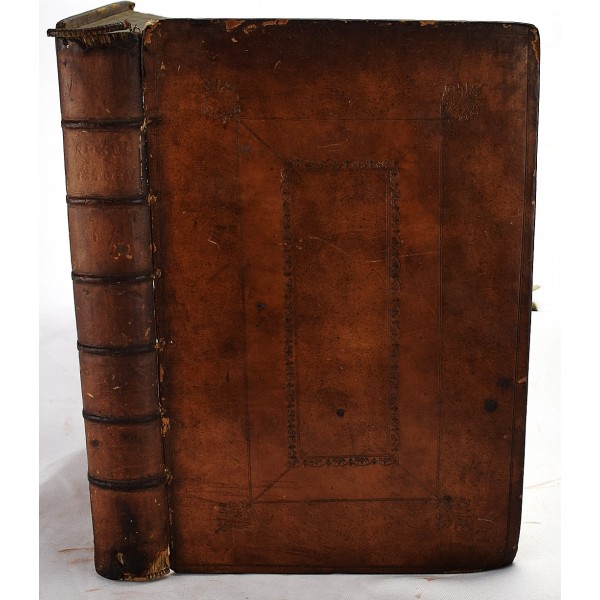 The historie of the reformatioun of religioun within the realm of Scotland ... together with the life of John Knoxe the author, and several curious pieces wrote by him; particularly that most rare and scarce one, intitled, The first blast of the trumpet against the monstruous regiment of women, and a large index and glossary [History of the Reformation of the Church of Scotland]
John Knox; David Buchanan
Edinburgh : printed by Robert Fleming and Company, and sold at the shops of J. MacEuen, J. Davidson, W. Brown, J. Paton, and G. Hamilton, and several other booksellers, 1732
Folio. Bound in contemporary paneled calf. Front hinge lightly cracked. [31], [56], 488, [20], engraved frontispiece portrait of John Knox. Pages unmarked. ESTC T92830.
First published in 1559 - 1566 and first collected by David Buchanan in 1644, Knox's "History of the Reformation of the Church of Scotland" covers the period between 1559 and 1567, and is divided into five books. In this work Knox relates the history of the Protestant movement in Scotland, with a focus on contemporary events. The authorship of the final book covering 1564-1567 is in question, and may have been written by Buchanan from Knox's notes and manuscripts. This work also contains Knox's other writings, including his polemic against female rulers. Knox's "Monstruous Regiment of Women" was written in opposition to the Catholic Queen Mary of England while Knox was in exile in Geneva. Knox later ran into difficulty after Queen Elizabeth came to power and blocked his involvement in the Protestant cause in England. Interestingly the title was in vogue in literature during the 20th century, with Regiment of Women (1917) and Terry Pratchett's Monstrous Regiment (2003), etc.
This is an oversized or heavy book, which requires additional postage for international delivery outside the US.