The Art of Painting: by C. A. Du Fresnoy: With Remarks: Translated into English, with an Original Preface, Containing a Parallel Between Painting and Poetry: By Mr. Dryden.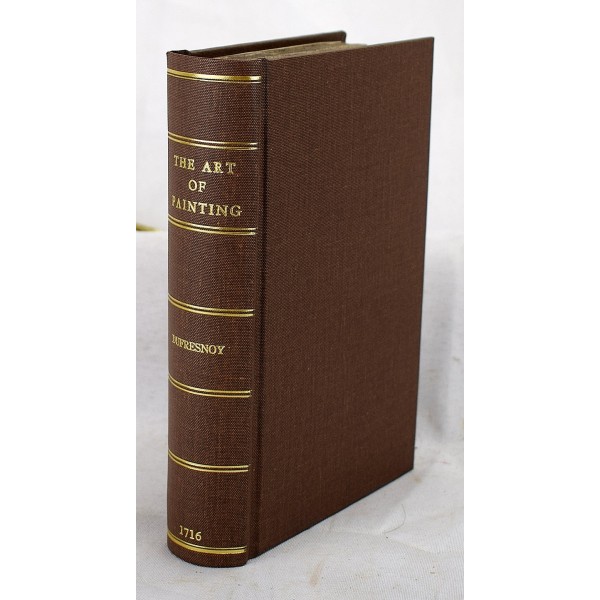 The art of painting: by c. A. Du fresnoy: with remarks: translated into english, with an original preface, containing a parallel between painting and poetry: by mr. Dryden. As also a short account of the most eminent painters, both ancient and modern: by the second edition, corrected, and enlarg'd.
Dufresnoy, Charles-Alphonse, 1611-1668
Printed for Bernard Lintott, 1716
John Dryden's translation. 2nd ed. Rebound in modern brown cloth. Gilt lettering, gilt ruled. Includes engraved frontispiece. Title in red & black. Early signature on title page. Old, light dampstain along bottom corner.'A short account of the most eminent painters . by Richard Graham', pp.[241]-[404], has a special title page. - 'Observations on The art of painting', pp. 81-221, is by John Dryden. - 'To Mr. Jervas, with Frensoy's [sic] Art of painting', in verse, is by Alexander Pope. - English Short Title Catalog, ESTCN14578. - Parallel texts of du Fresnoy's Latin poem, 'De arte graphica', and Dryden's prose translation, modified by Charles Jervas. Refs: Griffith 46; Macdonald 139; Rothschild 1575. De arte graphica.