Restrictions on Negro Voting in Mississippi History: Appendix to the Brief of the American Civil Liberties Union, Amicus Curiae (James Meredith)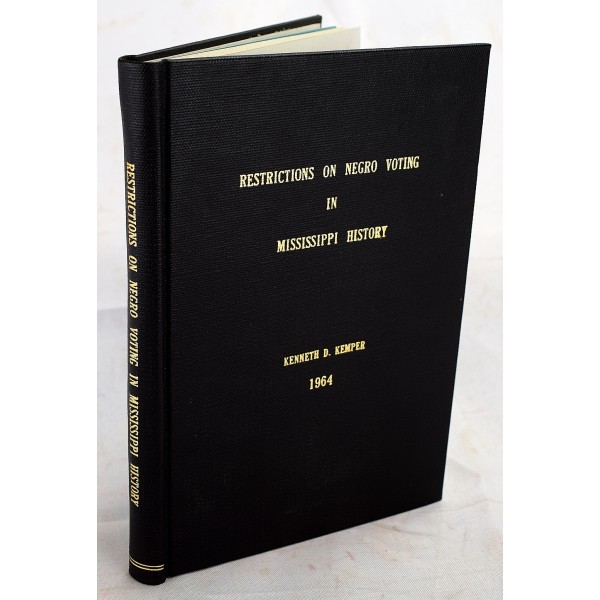 Restrictions on Negro Voting in Mississippi History: Appendix to the Brief of the American Civil Liberties Union, Amicus Curiae (James Meredith)
Kenneth D Kemper; United States. Supreme Court.; American Civil Liberties Union.
New York : Record Press, 1964
[Mississippi, Civil Rights, James Meredith] Rebound in navy cloth with gold spine lettering. 24 cm. Hardcover. Original blue wraps bound in. Fine binding and cover. Clean, unmarked pages. 1a-133a pages. <br> "In the Supreme Court of the United States, Oct. term, 1964, no. 73, United States of America, Appellant, v. State of Mississippi; Ross R. Barnett [and others] Appellees."
Mississippi's governor and various officials were charged with contempt of court over their continued attempts to block James Meredith's entry into the University of Mississippi. This amicus brief laid out the history of Mississippi's disenfranchisement of black voting. "The proceeding is the aftermath of the efforts of James Meredith, a Negro, to attend the University of Mississippi. Meredith sought admission in 1961 and, upon refusal, filed suit in the United States District Court for the Southern District of Mississippi. 202 F.Supp. 224. That court denied relief, but the Court of Appeals reversed and directed the District Court to grant the relief prayed for. Meredith v. Fair, 5 Cir., 305 F.2d 343. The mandate was stayed by direction of a single judge of the Court of Appeals, whereupon, on July 27, 5 Cir., 306 F.2d 374, the Court of Appeals set aside the stay, recalled the mandate, amended and reissued it, including its own injunctive order 'enjoining and compelling' the Board of Trustees, officials of the University and all persons having knowledge of the decree to admit Meredith to the school. On the following day the Court of Appeals entered a separate and supplemental 'injunctive order' directing the same parties to admit Meredith and to refrain from any act of discrimination relating to his admission or continued attendance. By its terms, this order was to remain in effect 'until such time as there has been full and actual compliance in good faith with each and all of said orders by the actual admission of (Meredith)' After a series of further delays, the District Court entered its injunction on September 13, 1962, directing the members of the Board of Trustees and the officials of the University to register Meredith. When it became apparent that the decrees might not be honored, the United States applied to the Court of Appeals on September 18 for permission to appear in the Court of Appeals in the case."