Narrative and Critical History of America (8 volumes) (Deluxe Leather binding)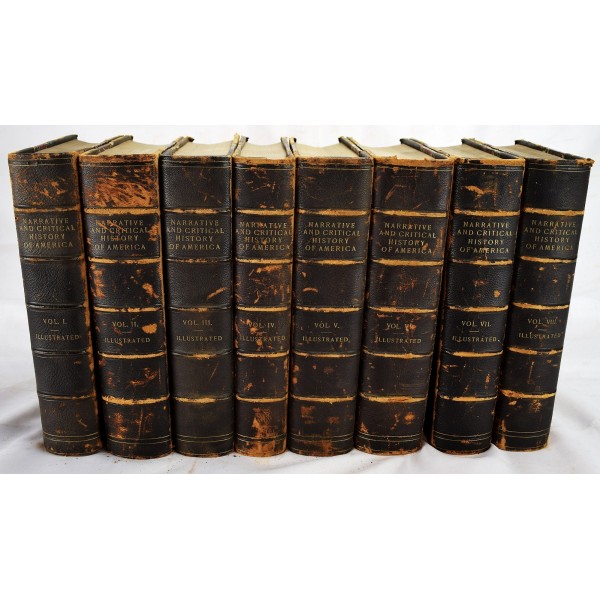 Narrative and Critical History of America (8 volumes) (Deluxe Leather binding)
Winsor, Justin (editor)
Houghton Mifflin, 1886
(Deluxe Leather binding) 8 volume complete set. 28 cm. 1886-1889. Bound in contemporary 3/4 leather over marbled boards. 5 raised spine bands. Some scuffing / rubbing to cover extremities. Top edges gilt. Marbled end sheets. Hardcover. Good binding and cover. 4844 pages. Clean, unmarked pages. "Most useful single work on the Western hemisphere."- Howes W-578.
Contents: I, Aboriginal America ; II, Spanish Explorations and Settlements in America from the Fifteenth to the Seventeenth Century ; III, English Explorations and Settlements in North America 1497-1689 ; IV, French Explorations and Settlements In North America and those of the Portuguese, Dutch and Swedes 1500-1700 ; V, The English and French in North America 1689-1763 ; VI, The United States of North America part one; VII, The United States of North America part two and VIII general index.
This is an oversized or heavy book, which requires additional postage for international delivery outside the US.