Fifty Comedies and Tragedies. All in One Volume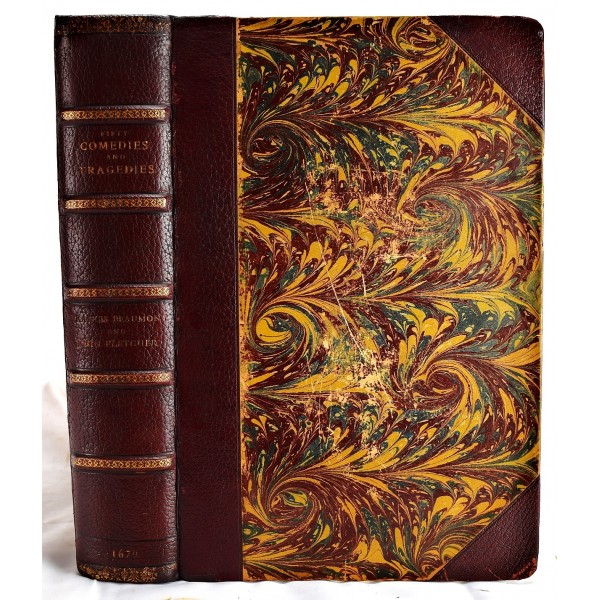 Fifty Comedies and Tragedies. All in One Volume
Beaumont, Francis; Fletcher, John
London: Printed by J. Macock for John Martyn, Henry Herringman, Richard Marriot, 1679
Second collected edition. Folio, 36 cm. Later 3/4 red leather over marbled boards. Rejointed. [10], 280, 279-578, 557 pp, frontispiece portrait. Frontispiece and title page trimmed and remounted. Moderate toning, spotting and staining.
This edition includes the first folio publication of The Two Noble Kinsmen, attributed to John Fletcher and William Shakespeare. The play was first published in quarto format in 1634; it was not included in any of the folio editions of Shakespeare's works; nor was it included in the first folio of Beaumont and Fletcher's works (1647). The Shakespearian attribution is generally agreed upon by scholars. The plot is derived from Chaucer's Knight's Tale from The Canterbury Tales. This second edition adds eighteen plays for a total of 53, lyrics to many songs, and twenty-five cast lists prefixed to the corresponding plays. Refs: Wing B1582; Pforzheimer 54.
Contents: 1. The maids tragedy --2. Philaster, or, Love lies a bleeding --3. A king or no king --4. The scornful lady --5. The custom of the country --6. The elder brother --7. The Spanish curate --8. Wit without money --9. The beggers bush --10. The humorous lieutenant --11. The faithful shepherdess --12. The mad lover --13. The loyal subject --14. Rule a wife, and have a wife --15. The laws of Candy --16. The false one --17. The little French lawyer --18. The tragedy of Valentinian --19. Monsieur Thomas --20. The chances --21. Rollo, Duke of Normandy --22. The wild-goose chase --23. A wife for a month --24. The lovers progress --25. The pilgram --26. The captain --27. The prophetess --28. The Queen of Corinth --29. The tragedy of Bonduca --30. The knight of the burning pestle --31. Loves pilgrimage --32. The double marriage --33. The maid in the mill --34. The knight of Malta --35. Loves cure, or, The martial maid --36. Women pleased --37. The night walker, or, Little thief --38. The womans prize, or, The tamer tamed --39. The island princess --40. The noble gentleman --41. The coronation --42. The coxcomb --43. Sea-voyage --44. Wit at several weapons --45. The fair maid of the inn --46. Cupids revenge --47. Two noble kinsmen --48. Thierry and Theodoret --49. The woman-hater --50. The nice valour, or, The passionate madman --51. The honest man's fortune --[52] A mask at Grays-Inn, and the Inner Temple --[53] Four plays, or, Moral representations. <br> This is an oversized or heavy book, which requires additional postage for international delivery outside the US.