The Common-wealth of Oceana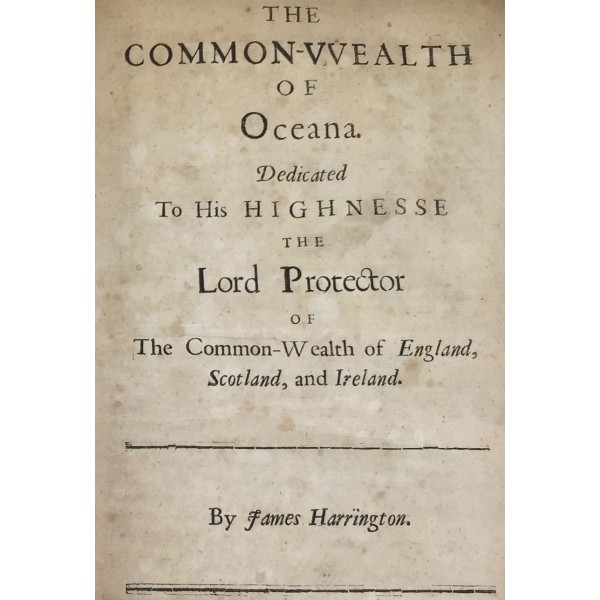 The Common-wealth of Oceana
James Harrington
London : Printed by J. Streater for Livewell Chapman, 1656.
Folio. First edition, Streater variant. [12], 239, [1], 255-274, 175-210, [2] p. Later brown leather, modern red leather spine label, marbled endpapers, title page printed in red and black. Restoration to joints and hinges. No frontis, as is standard. Toning, foxing and browning to pages. Contemporary ink corrections to text, figure notations to last blank page., motto to title page of "Libertas optima rerum" and last page of text of "Sic transit gloria mundi."
Landmark work on political philosophy.
The Commonwealth of Oceana, which was seized at Cromwell's order and was allowed to be printed in 1656 through the intervention of Cromwell's daughter. Oceana calls for a government based on "the supremacy of reason over passion, which makes the true commonwealth an empire of laws, not of man" (Coker, 499-500).
Harrington's ideal state was were a legislative body proposed laws, the people ratified them, and a magistracy enforced them. Harrington inexplicably returned classical republicanism to England where it would plant it seeds in America soon after: It was in America that Harrington's influence was strongest. The written constitution, the unlimited use of elective principle and the separation of powers are all points which may have been derived directly from the Oceana, while all the minor points seem to have been first formulated by (him). His influence is best seen in the early constitutions of the proprietary colonies, Carolina, New Jersey, Pennsylvania (Encyclopedia of the Social Sciences). Other than Utopia, [Oceana] is perhaps the most famous attempt at envisioning a model commonwealth (Pforzheimer 449).
Provence: From the library of John Linzee Snelling. Bookplates of David Halyburton and Alexander Mylne. Correspondence from and to Mr. Snelling enclosed from Rev. Mylne requesting information on who Alexander Mylne was.
Refs: Gibson 704; Wing H809. Pforzheimer 449. ESTC R18610. Goldsmiths 3735. Kress 2225.