Oriental Collection : A Portfolio of Leaves Taken From Rare and Notable Books and Manuscripts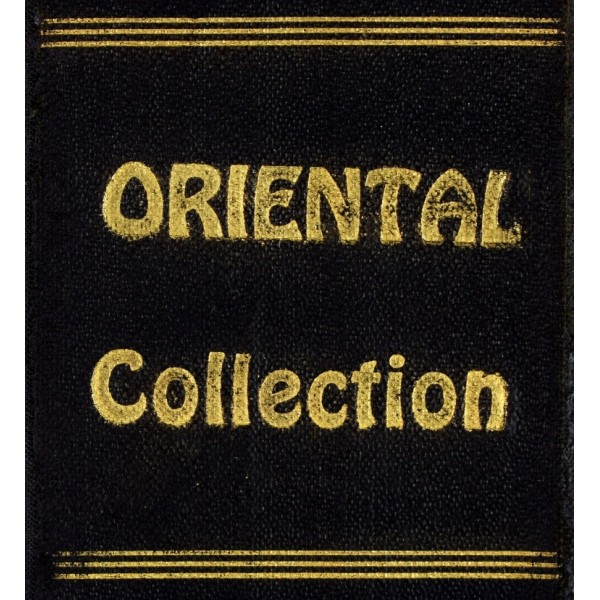 Oriental Collection : A Portfolio of Leaves Taken From Rare and Notable Books and Manuscripts
George M L Brown; Foliophiles
Foliophiles, 1928
Folio portfolio box with loose folders, as issued. 36 cm. Box containing rolled Tibetan manuscript. Limited ed. No. 18 of 45 sets.

Includes: 1. Nestorian Syriac Manuscript. Printed leaf from a New Testament in Syriac.
2. Armenian Manuscript. Printed leaf from an Armenian Book of Rituals.
3. Arabic Manuscript in Cufic characters: the Koran.
4. Arabic Manuscript: a Book of Devotions. Modern Arabic Manuscript: The Koran.
5. Arabic Manuscript, 17th Century: The Koran. Printed leaf from an Arabic book.
6. Arabic manuscript written in Persia.
7. Turkish Manuscript: A book of Travels. Printed leaf from a Turkish dictionary.
8. Persian Manuscript: Biographies of noted Sufis.
9. Persian Manuscript: The Gulistan of Sadi. Printed leaf from a Persian textbook.
10. Persian Manuscript: The Shahnama of Firdausi. Persain manuscript: The Kamsah of Nizami.
11. Persian manuscript with miniature.
12. Kashmir manuscript in Persian.
13. Sanskrit manuscript. Printed leaf from a New Testament in Sanskrit.
14. Sanskrit manuscript, 18th Century. Illuminated Sanskrit manuscript, 19th Century.
15. Rajput miniature painting.
16. Hindi manuscript: The Chronicles of Rajputana. Printed leaf from Sakuntala in Hindi.
17. Tibetan Buddhist manuscript.
18. Mongol manuscript.
19. Burmese palm leaf manuscript. Sinhalese palm leaf manuscript.
20. Siamese manuscript.
21. Javanese manuscript.
22. Chinese rubbing.
23. Chinese block printing. Japanese block printing.
24. Japanese Buddhist manuscript, 14th Century. Japanese manuscript, 17th century.
25. Japanese color print by Hokusai. Modern Japanese illustration.