A Papermaking Pilgrimage to Japan, Korea and China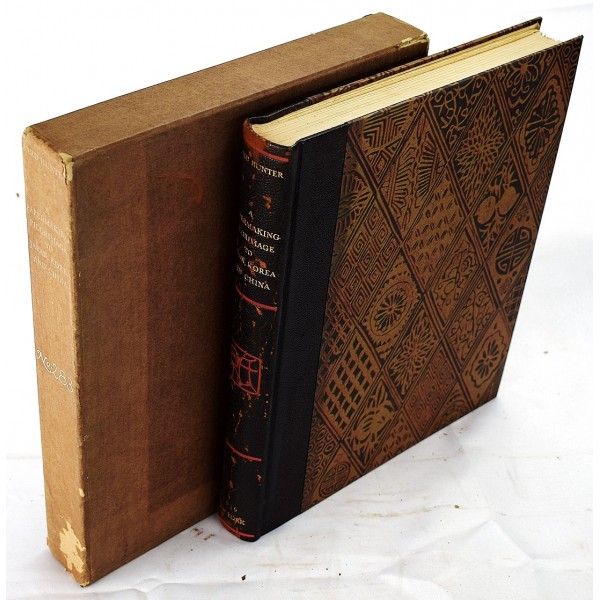 A Papermaking Pilgrimage to Japan, Korea and China
Hunter, Dard
New York : Printed by Pynson E. Adler, 1936
Quarto, 148, [4] pp., 29 cm. Frontispiece, illustrated with 68 photogravures and drawings, index. With 50 examples of paper tipped-in. Signed by both Dard Hunter and the publisher Elmer Adler. Original quarter black gilt and red-stamped morocco, decorative paper printed with a pattern from an old Korean woodblock by Gerhard Gerlach, brown hand-numbered slip-case. No 283 of 350 copies. Rubbing and chip loss to spine, foxing to the paper examples in rear.
The book describes the trip and the processes of hand papermaking that Hunter discovered during his journey to Japan, Korea and China. The specimens show a wide variety of paper from these three countries and tie in nicely with the descriptions of hundreds of different kinds of paper that he had found, as well as the locations where they were produced.
Refs: Hunter's My Life with Paper, pp.127-129 for further details of the trip); Leonard B. Schlosser, An Exhibition of Books on Papermaking, Philadelphia: Free Library of Philadelphia, 1968, p. 13.
This is an oversized or heavy book, which requires additional postage for international delivery outside the US.