Epitome of the art of navigation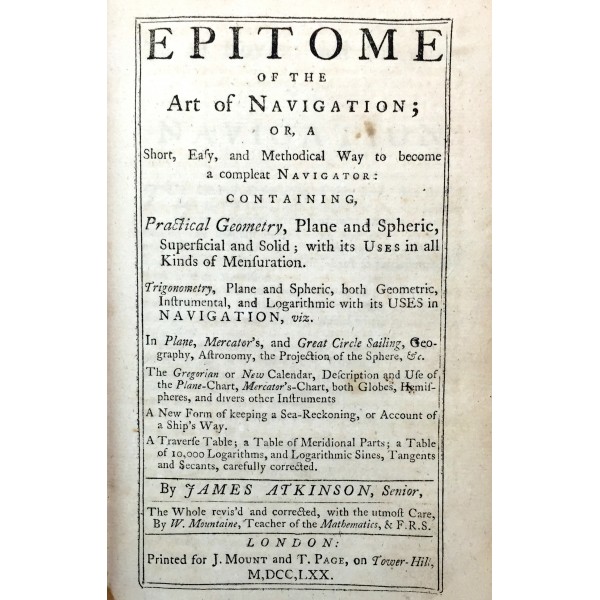 Epitome of the art of navigation
James Atkinson
London : Printed for J. Mount and T. Page, on Tower-Hill, M, DCC, LXX., 1770.
Bound in full contemporary calf.  Base of spine conserved, rebacked. 457, [1] pages, 10 plates (lacking volvelle on last plate).  Scattered foxing, some staining.  Signed, Timothy Rogers, 1773, in a fine hand.  First published in 1686. 
Full title: Epitome of the art of navigation : or, a short, easy, and methodical way to become a compleat navigator: Containing, Practical Geometry, Plane and Spheric, Superficial and Solid ; with its Uses in all Kinds of Mensuration. Trigonometry, Plane and Spheric, both Geometric, Instrumental, and Logarithmic with its Uses in Navigation, viz. In Plane, Mercator's, and Great Circle Sailing, Geography, Astronomy, the Projection of the Sphere, &c. The Gregorian or New Calendar, Description and Use of the Plane-Chart, Mercator's-Chart, both Globes, Hemispheres, and divers other Instruments A New Form of keeping a Sea-Reckoning, or Account of a Ship's Way. A Traverse Table ; a Table of Meridional Parts ; a Table of 10,000 Logarithms, and Logarithmic Sines, Tangents and Secants, carefully corrected. By James Atkinson, Senior, the whole revis'd and corrected, with the utmost care, by W. Mountaine, Teacher of the Mathematics, & F.R.S.