Coopers chronicle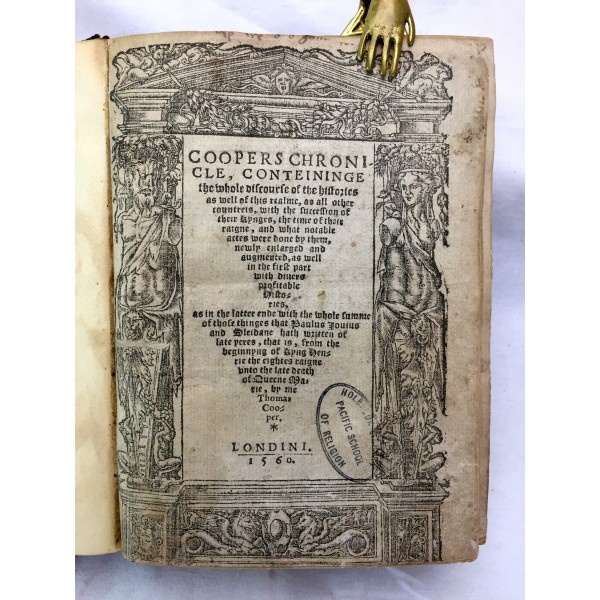 Coopers chronicle: conteininge the whole discourse of the histories as well of this realme, as all other countreis, with the succession of their kynges, the time of their raigne, and what notable actes were done by them, newly enlarged and augmented, as well in the first part with diuers profitable histories, as in the latter ende with the whole summe of those thinges that Paulus Iouius and Sleidane hath written of late yeres, that is, from the beginnyng of Kyng Henrie the eightes raigne vnto the late death of Queene Marie
Thomas Lanquet; Thomas Cooper
Londini: Printed in the House late Thomas Berthelettes, 1560.
Bound in full leather.  Old boards rebacked on later spine. Marbled end pages. Black letter. Collated: [26,(of 30)], 375 (of 377), [1] leaves. Stamp on title page. Engraved title page. Some earlier restoration work, e.g. small closed tear on p. 321.  All edges red. Armorial book plate of William M. Tilghman, "Spes alit agricolam". Hazlitt II, page 334; STC 15218.  Lacking leaves: 4 preliminary leaves and SSss1 & 2. Epitome of chronicles. 
Cooper was an English controversialist bishop and noted author of Thesaurus Linguae Romane et Britannicae.  Cooper's chronicle represents a continuation of Thomas Lanquet's work (Lanquet had died in 1545 with the work unfinished) to the reign Elizabeth I. Cooper's "portion is about thrice as much as Lanquet's, and the whole was published in 1549." -DNB.  Cooper was further spurred by his strident rejection of Robert Crowley's updates printed in 1559. Cooper printed this edition of his chronicle in 1560 after bringing the history to Queen Elizabeth I's reign.  (Beer, Barrett, "Robert Crowley and Cooper's Chronicle: The Unauthorized Edition of 1559", Notes and Queries: for readers and writers.)
Early English printing.