Colton's General Atlas: Containing One Hundred and Seventy Steel Plate Maps and Plans, on One Hundred Imperial Folio Sheets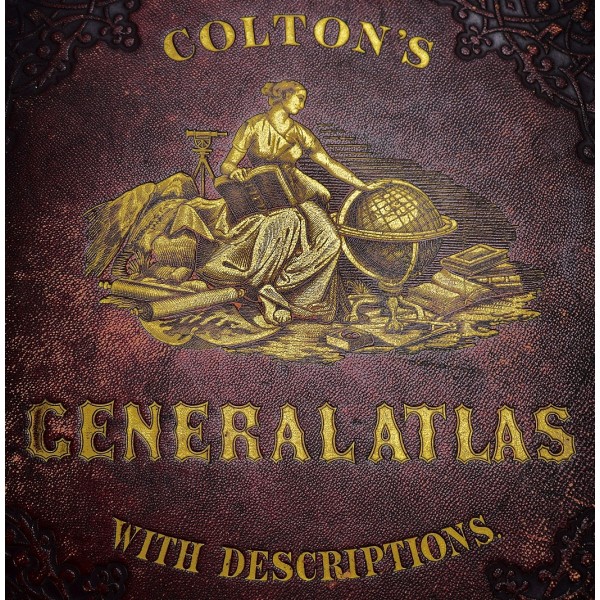 Colton's General Atlas: Containing One Hundred and Seventy Steel Plate Maps and Plans, on One Hundred Imperial Folio Sheets
Richard Swainson Fisher; J.H. Colton & Co.
J.H. Colton & Co, 1859
[Rare Antebellum Atlas] Folio; 45 x 37.5 cm. (17 1/2x14 3/4"). Bound in publisher's red morocco. Gilt picture of a lady (the muse Urania) studying a book and a globe surrounded by a lattice embossment on both covers. Rubbing to cover, wear to extremities. All edges gilt. Internally generally good, with foxing to the preliminary pages. [282] pages : 170 hand colored maps and plans on 100 sheets. Engraved allegorical frontispiece by F.A. Chapman.
The Atlas includes individual maps by continent, country, state, territory and city. Each regional map is accompanied by: Astronomical Position, Boundaries, Dimensions, Physical Aspects, Political, Population, Industry, Agriculture, Religion, Education, and History. The Atlas was published two years prior to the Civil War, the statistics include slaves and the "free colored population." Approximately half of the maps are devoted to the United States with state maps and city plans. Western Americana maps include: "Nebraska and Kansas Territories," "Oregon and Washington," "Utah and New Mexico," etc. Refs: Phillips Atlases 827 (citing 1857 edition).
From the collection of United States Ambassador and diplomat, Alexander Weddell (1876-1948). Weddell was US Ambassador to Argentina from 1933-1938. Engraved book plate from Virginia House Museum.
This is an oversized or heavy book, which requires additional postage for international delivery outside the US.