Clipped Signature of General Nelson A. Miles: Framed Portrait, Under Glass (Civil War, Indian Wars, Spanish-American War)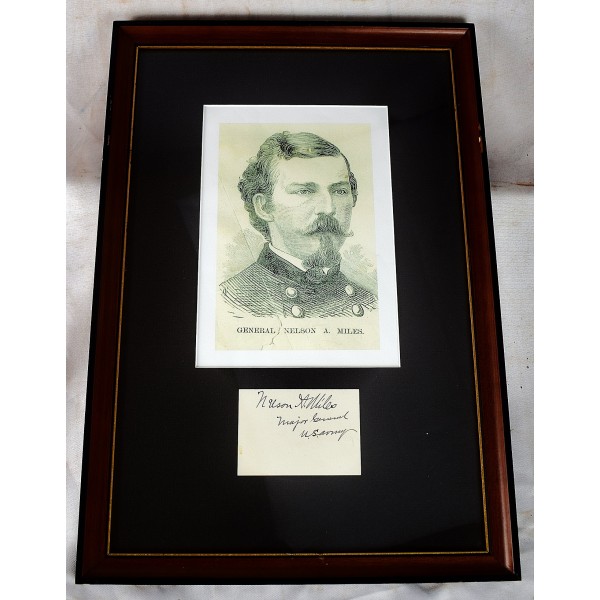 Clipped Signature of General Nelson A. Miles: Framed Portrait, Under Glass (Civil War, Indian Wars, Spanish-American War)
Major General Nelson A. Miles
1890
[Civil War / Indian Wars General Miles' Signature] Clipped signature (6.3 x 8.5 cm) of Lieutenant General Nelson Appleton Miles (1839-1925, three-star US General). The signature is mounted, under glass with a modern portrait of Miles (11 1/2 x 17"). The frame comes with a Certificate of Authenticity from RR Auction, 2014. Full inscription: "Nelson A. Miles, Major General, Comdy. U.S. Army"
Miles served in the American Civil War, the American Indian Wars, and the Spanish-American War. From 1895 to 1903, he served as the last Commanding General of the United States Army. Miles volunteered for service in the 1861 with the 22nd Regiment Massachusetts Volunteer Infantry. He served for the length of the Civil War fought in the battles of Fredericksburg, Chancellorsville, Spotsylvania Court House, and Appomattox. He began the war as a volunteer private and ended the war as a brevetted Major General. At age 25, he was put in command of the 2nd Corps of the Army.
For a time he commanded the prison that housed former CSA President Jefferson Davis. After the Civil War he served in the Regular Army in the Reconstruction of North Carolina. He served extensively in the Indian Wars of the west. In 1874-1875, he was a field commander in the force that defeated the Kiowa, Comanche, and the Southern Cheyenne along the Red River. He led US forces in the Northern Plains after Custer's defeat at Little Bighorn, forcing the Lakota (Sitting Bull) and their allies onto reservations. In 1877 he pursued Chief Joseph and his bands of the Nez Perce tribe 1,500 miles until their eventual capture. In 1886 he was appointed commander of forces fighting against Geronimo, the Apache leader in Arizona and Mexico. He unsuccessfully followed Geromino's band 3,000 miles through Sierra Madre. In 1890 Miles commanded the US forces that put down the Ghost Dance movement and massacre of Sioux at Wounded Knee. Miles was critical of the event, calling it "the most abominable criminal military blunder and a horrible massacre of women and children", but ultimately responsible.
After service in the west, Miles commanded the Army forces that put down the Pullman Strike of riots of 1895. In the Spanish American War he was the overall commander of the Army. He served in the Cuban campaign and commanded the invasion of Puerto Rico at Guanica. Miles received the medal of honor for his service. He is buried in a mausoleum at Arlington National Cemetery.