Captivity Narrative of Hannah Duston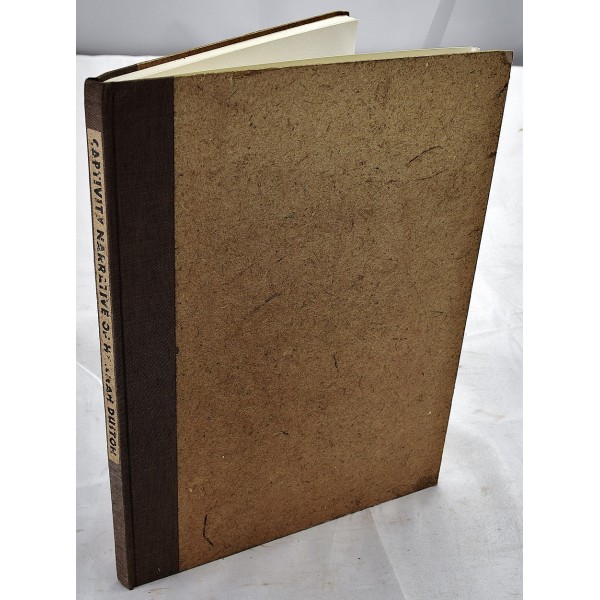 Captivity Narrative of Hannah Duston
Hawthorne, Nathaniel; Mather, Cotton; Thoreau, Henry; Whittier, John Greenleaf
San Francisco : Arion Press, 1987
Limited edition of 400. 53 pages : illustrations ; 44 cm. Hardcover. Good binding and cover. Clean, unmarked pages.
In this collaboration with the Arion Press, painter and printmaker Richard Bosman illustrates four versions of the Indian captivity narrative of Hannah Duston from 1697. As the story goes, Hannah Duston was abducted from her home in Massachusetts by Native Americans. Her husband and children escaped the attack, but her infant daughter was killed by her captors. After being forced to march to a distant location, Hannah, her nurse Mary Neff, and one other prisoner escaped, killing and taking the scalps of two men, two women, and six children as they slept. As written by Cotton Mather (1706), John Greenleaf Whittier (1831), Nathaniel Hawthorne (1836), and Henry David Thoreau (1849), the four narrations in this edition differ in tone according to the different perspectives brought to it by the four authors. An introduction by Glenn Todd discusses Hannah's story and the history of its re-tellings. Famous for his paintings and prints inspired by pulp fiction and sensationalist crime photography, Bosman creates four striking interpretations of the four narratives. Rendered in black-and-white, Bosman's expressive woodcuts set the stage for this dark and bloody tale. Two prints include splashes of red ink to theatrically portray the death of Hannah's baby. In addition to the frontispiece, this volume contains 34 woodblock prints throughout the text. This book is printed on mouldmade Rives heavyweight paper with deckled edges at the fore edge and tail. It was designed, printed, and bound under the supervision of Andrew Hoyem as the twenty-fourth publication of the Arion Press. The types are Frederic W. Goudy's Kennerley Bold, handset for the main texts and composed in Monotype for the introduction and subsidiary material, with Rudolf Koch's Neuland Inline for display. The volume is bound in brown Italian linen at the spine. Sugikawashi, a Japanese handmade paper containing cedar bark fibers, covers the sides. "One of America's oldest Indian captivity narratives ... first recorded by Cotton Mather ... who had it from Hannah Duston herself and made it the subject of a sermon, afterward including it in his long ecclesiastical history of New England, Magnalia Christi Americana (1702)"--Publisher's prospectus.
Contents: A notable exploit : wherein dux faemina facti / Cotton Mather --The mother's revenge / John Greenleaf Whittier --The Duston family / Nathaniel Hawthorne --From A week on the Concord and Merrimack rivers / Henry David Thoreau.
This is an oversized or heavy book, which requires additional postage for international delivery outside the US.