Elegant Epistles & Elegant Extracts: (12 volume set)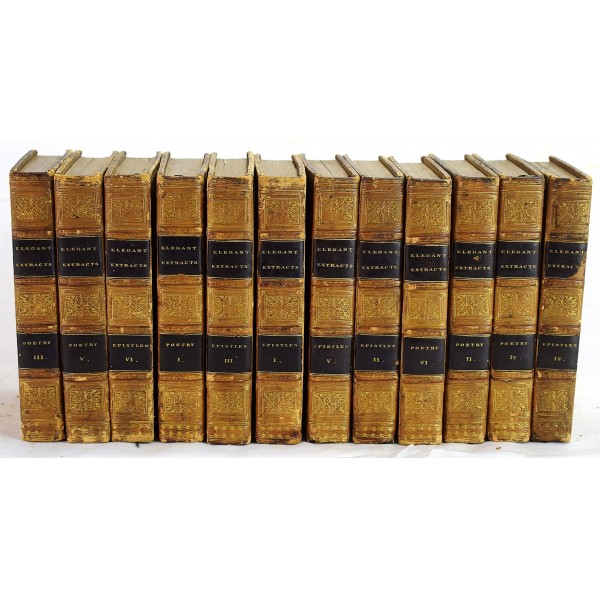 Elegant Epistles & Elegant Extracts: (12 volume set)
John Sharpe; Hector McLean; Howlett and Brimmer,; Plummer and Brewis,; Vicesimus Knox; Cecil F Crofton
John Sharpe, 1810
12 volumes. 14 cm. Issued as a miniature library, containing 6 v. 2 uniformly bound sets of Elegant extracts (poetry and epistles). Bound in brown straight-grained morocco. Some darkening to spines. Handsomely bound. Gilt ruled, with a gold lyre centered on both boards. All edges gilt. Each book has separate engraved title page.
Includes: V. 1, books I-II. Ancient and classical.--v. 2, books III.-IV. Modern of early date.--v. 3, books V-VI. Modern of late date.--v. 4, books VII-VIII. Miscellaneous, of modern and late date.--v. 5, books IX-X. Middle of last century.--v. 6, books XI-XII. Recent.
v. 1. Devotional and moral --v. 2. Didactic, including fables, descriptive, narrative, and pastoral -- v. 3. Odes, elegies, monodies, and epitaphs -- v. 4. Dramatic -- v. 5. Ballads, songs, &c. Satirical and humorous -- v. 6. Larger poems.
"Temple of the muses." Full titles: Being a copious selection of instructive, moral and entertaining Passages, from the most Eminent British Poets. Being a copious selection of instructive, moral, and entertaining letters, from the most eminent epistolary writers