The Genealogy of the Cleveland and Cleaveland Families: An Attempt to Trace in Both the Male and Female Lines, the Posterity of Moses Cleveland and of Alexander Cleveland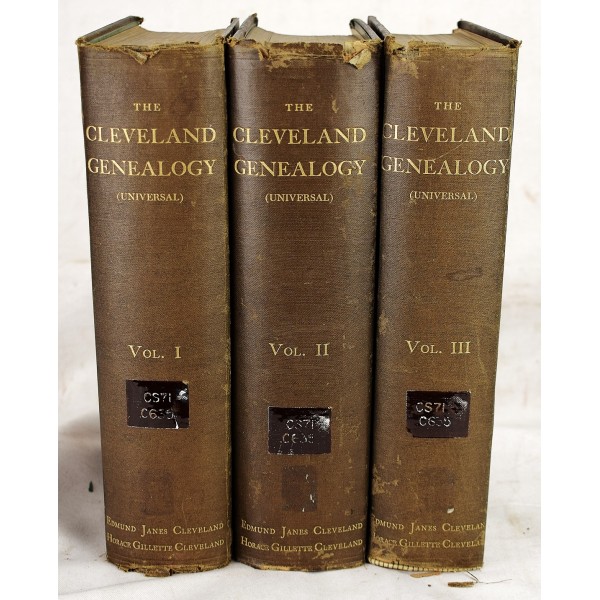 The Genealogy of the Cleveland and Cleaveland Families: An Attempt to Trace in Both the Male and Female Lines, the Posterity of Moses Cleveland and of Alexander Cleveland
Edmund Janes Cleveland; Horace Gillette Cleveland
Hartford, Conn. : Case, Lookwood & Brainard, 1899
3 volume set. From the library of the Mayflower Society. Bound in publisher's cloth. Hardcover. Library stamps and markings. Shelf wear. Poor bindings. Gutters weakened. Some pages loose. Edges rubbed. Spine ends chipped. Lacking title and front end pages of v.1 and v.2. Scattered marginalia. Sold with all faults. Moses Cleveland who came from Ipswich County, Suffolk, England about 1635 was of Woburn, Middlesex County, Massachusetts and Alexander Cleveland of Prince William County, Virginia. Other families chronicled include: Briggs, Keyes, Randall, Rose, and Wilson.
Founded in 1897, the Mayflower Society, or General Society of Mayflower Descendants is a non-profit organization. Membership requires proof of lineage from one of the passengers who traveled to America on the Mayflower in 1620. Their educational mission includes telling the story of the Pilgrims as well as maintaining the highest standards possible for genealogy research into the lineage of the Pilgrims.
This is an oversized or heavy book, which requires additional postage for international delivery outside the US.