Historical Collections of the Essex Institute (45 volume set) [1859-1974]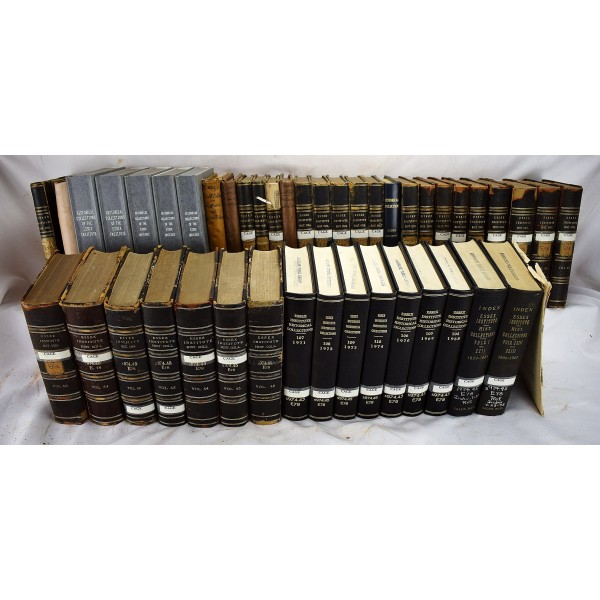 Historical Collections of the Essex Institute (45 volume set) [1859-1974]
George F. Chever; Benjamin F. Browne; Colonel Robert Hale; George Harlan Lewis; Ruth Bogin
Henry Whipple & Son, 1859
45 vol. set. Contents: V.1-V.6 (printed 1859-1864); V.8-V.14 (1866-1878); V.22-V.24 (1885-1888); V.26-V.27 (1889-1890); V.29-V.30 (1892-1895); V.32-V.46 (1896-1910); V.104-V.110 (1968-1974); Index V.1-22 (1954); Index V.22-43 (1958); Index V. 41-50 (missing cover).
Interesting articles in this collection: "The Prosecution of Ann Pudeator, for Witchcraft", "The Journal of Capt. Samuel Page in the Campaign of 1779", "A List of Deaths in Beverly", "Were the Salem Witches Guiltless", "Extracts From Letters Written at the Time of the Occupation of Boston by the British, 1775-6", "Muster Roll of Capt. William Norwood's Company, 1764", "Warnings to Negroes in Salem in 1790", "Sarah Parker Remond: Black Abolitionist from Salem".
The majority are bound in 3/4 morocco leather over marble boards, with gilt lettering. Hardcover. A rich archive of early Massachusetts genealogy. Some volumes have protective slip covers and/or slip cases. Vol. 29 is rebound in black cloth. Vols. 104-110 are bound in black cloth with gilt lettering. The index of volumes 41-50 is lacking its' cover. Some bindings are poor with cracked gutters. A few lack spines. Library stamps and markings.
This is an oversized or heavy book, which requires additional postage for international delivery outside the US.