[Atlas Volume] Report of the Boundary Commission upon the Survey and Re-Marking of the Boundary Between the United States and Mexico West of the Rio Grande, 1891 to 1896 (Senate document no. 247 (v. 25) 55th Congress, 2nd session)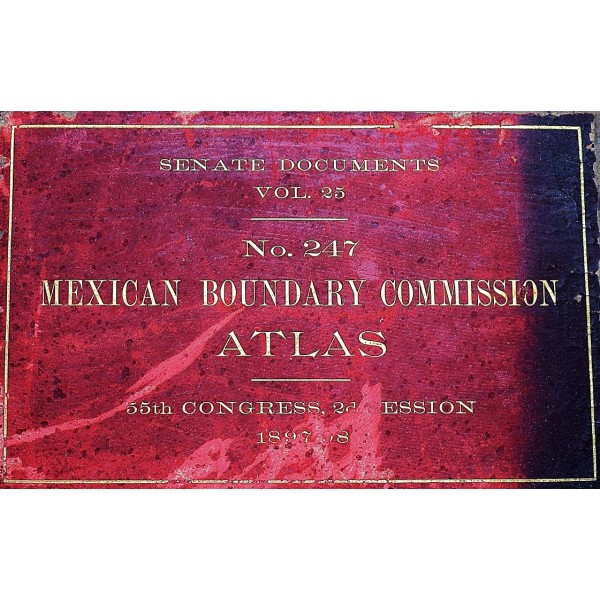 [Atlas Volume] Report of the Boundary Commission upon the Survey and Re-Marking of the Boundary Between the United States and Mexico West of the Rio Grande, 1891 to 1896 (Senate document no. 247 (v. 25) 55th Congress, 2nd session)
U.S. Senate; International Boundary Commission; John Whitney Barlow; Jacobo Blanco
Washington, G.P.O. 1899
[Rare Atlas volume only] Large folio, 73.5 x 56 cm. [4] pp., 26 lithograph maps and profiles with bilingual captions. Pages are clean and unmarked. Library book plate. Bound in original Cloth blacked, marbled boards. Spine taped. [4] pp., 26 lithograph maps and profiles with bilingual captions. <br> In the 1870s and 1880s, land ownership and border disputes broke out when valuable natural resources were discovered near the United States-Mexican border. The International Boundary Commission, which set out in 1891, consisted of two main parties, one from the U.S. and one from Mexico. John Whitney Barlow and Jacobo Blanco, respectively U.S. and Mexican commissioners, met at El Paso in February 1892 to begin the work. Their instructions were to resurvey the border line, locate and rebuild the old monuments, and install additional markers as necessary.
Contents: Vol. III: Boundary between the United States and Mexico, as Surveyed and Marked by the International Boundary Commission, under the Convention of July 29, 1882. Revived February 18, 1889. List of Maps and Profiles: A and B; Index Map of the Boundary. 1, 2, 3, and 4; California Line. 5; Colorado River Section of the Boundary (in Colors). 6, 7, 8, 9, 10 and 11 - Arizona - Sonora Oblique Line. 12, 13, 14, 15, and 16 - Parallel 31° 20' North Latitude. 16 and 17; Meridian Section. 17, 18, and 19; Parallel 31° 47' North Latitude. 20, 21, 22, 23, and 24 - Profile of the Boundary. A and B Show the Prominent Peaks, Roads and Springs in the Vicinity of the Boundary Line Whose Positions and Heights Were Determined by the U.S. Section of the Commission. The Railroads, Roads and Trails and the Location of Settlements, Rivers, &c., at a Distance from the Boundary Were Compiled from County Maps, General Land Office Maps, U.S. Engineer Maps, &c. Pacific Coast Line and San Diego Bay from U.S. Coast and Geodetic Survey Charts. Coast of Lower California and Gulf of California from U.S. Hydrographic Office Charts.
This is an oversized or heavy book, which requires additional postage for international delivery outside the US.