Atlas of the City of Boston: City Proper and Roxbury: From Actual Surveys and Official Plans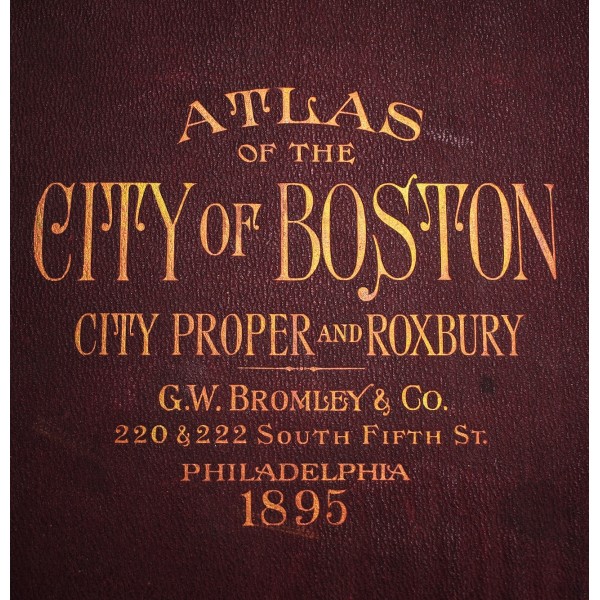 Atlas of the City of Boston: City Proper and Roxbury: From Actual Surveys and Official Plans
George Washington Bromley; Walter Scott Bromley; G.W. Bromley & Co.
G.W. Bromley and Co. 222 S. Fifth St. Philadelphia, 1895
Atlas folio, 58 x 44 cm (23 x 17 inches). Bound in publisher's burgundy cloth. Poor binding, spine perished, boards detached. Leather corners worn, with loss. Collated: 39 (of 46) colored-double page maps. Lacking 7 maps: 7-9, 13, 17, 21, 44. The maps are cloth-backed and hand-colored. They fold out to 51 x 77 cm. Scale 1:1200. There is a dampstain along the bottom corner edge. The second map has an small ink stain in the center. The title page has tears and soilng, with significant loss at the bottom corner. Refs: Phillips 1797; LeGear. Atlases of the United States, 4880; Harvard Map Collection G1234.B6 B73 1895 pf.
Maps include: Boston composite map: South Station, Downtown Crossing, Scollay Square, Post Office Square; Plate 1. Downtown Crossing, Scollay Square; 2. Downtown, Financial District; 3. North End, Waterfront, Downtown;4. North End, Waterfront; 5. (Haymarket) Bulfinch Triangle, North Station, Haymarket, North End; 6. Massachusetts General Hospital; 10. Massachusetts Ave, Westland Ave, Fenway; 11. West Newton St, Rutland Sq, Columbus Ave, South End; 12. Trinity Church, Boston Public Library, Copley Sq. Back Bay, South End, Cambridge Common; 14. Beach St, Kneeland St, Harrison Ave, Chinatown, South End; 15. Tremont St, Washington St, New York Streets; 16. (Montgomery Square, Union Park, Albany St)South End, SoWa, Union Park; 18. (Massachusetts Ave, Chester Square, City Hospital)South End; 19. Roxbury Burial Ground;20. Madison Square;22. Tremont St, Huntington Ave;23. Ruggles, Huntington Ave, Back Bay Fens;24. Huntington Ave, Rogers Ave;25. Marlborough St, Commonwealth Ave, Charlesgate, Kenmore Square;26. Audubon Circle;27. (Boylston St, Brookline Ave, Beacon St) Kenmore Square;28. (Boylston St, Brookline Ave, Audubon Rd);29. Longwood Ave, Francis St, Brookline Ave;30. Health St, Huntington Ave, Jamaicaway, Calumet St;31. Day St, Health St, Jamaicaway;32. Centre St, Forbes St, Wyman St, Chestnut Hill Ave;33. Parker Hill Ave, Parker St;34. Jackson Square, Columbus Ave, Ritchie St;35. Highland Park, Cedar Square;36. Columbus Ave, Walnut Ave, Seaver St;37. Washington Park, Walnut St, Dale St;38. Warren St, Moreland St; 39. Blue Hill Ave, Grove Hall; 40. Blue Hill Ave, Warren St, Elm Hill Ave; 41. Blue Hill Ave, West Cottage St; 42. Blue Hill Ave, Dudley St.; 43. Massachusetts Ave, Swett St.;45. Massachusetts Ave, Magazine St.
This is an oversized or heavy book, which requires additional postage for international delivery outside the US.