Across Asia from West to East in 1906-1908 (2 volume set)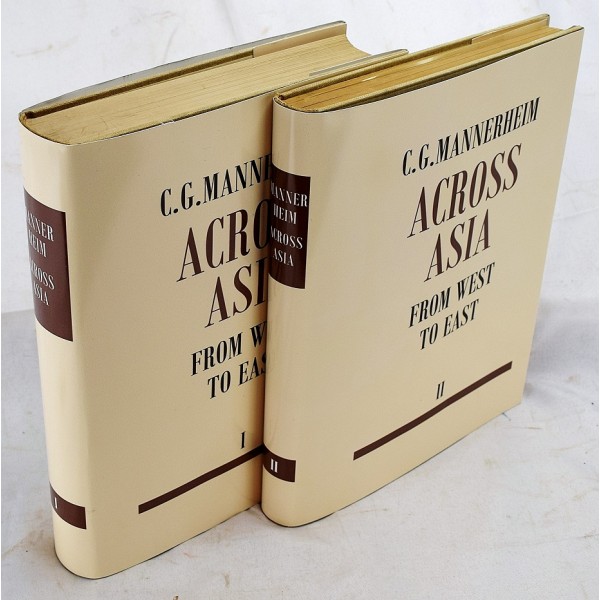 Across Asia from West to East in 1906-1908 (2 volume set)
Mannerheim, Carl Gustaf Emil HildGen, Kaarlo, ; Tallgren, Aarne MichaFel,
Suomalais-Ugrilainen Seura, 1940
2 volume set. 31 cm. Limited edition of 500 copies. Bound in publisher's cloth. Hardcover. Good binding. Clean, unmarked pages. Spine darkened. Portrait frontispiece, numerous photographs and figures, including 57 full page illustrations and 14 folding maps at rear of vol. II. One folding plate.
Mannerheim, served as a Finnish-born officer in the Russian army. He covered 14,000 km on horseback during two years' journey along the Silk Road. He traveled from Russian Turkestan, through Chinese Turkestan and Western China via Kan Su, Shensi and Shansi to Peking. Mannerheim joined the French archaeologist Paul Pelliot, and they traveled together from Tashkent to Kashgar. Mannerheim then headed to Khotan via Yarkand before continuing his journey through the Tien Shan to Urumchi and on to China. He met the thirteenth Dalai Lama at Utaishan. The set contains both Mannerheim's narrative (vol. I), and scientific results by different members of the expedition (vol. II). Aalto, Oriental Studies in Finland, pp. 113-118 & 136. Yakushi M74a. <br> This is an oversized or heavy book, which requires additional postage for international delivery outside the US.