A Narrative of the Captivity of Mrs. Johnson: Containing an Account of her Sufferings, During Four Years, with the Indians and French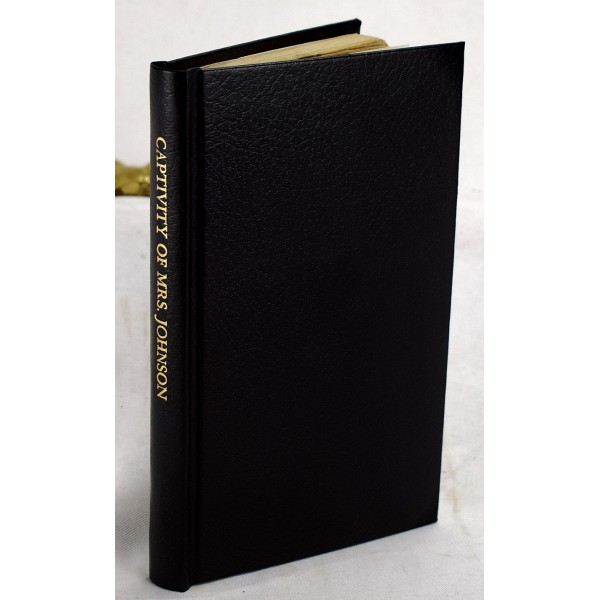 A Narrative of the Captivity of Mrs. Johnson: Containing an Account of her Sufferings, During Four Years, with the Indians and French
 Susannah Willard Johnson, Mrs.
 Windsor, Vt : Printed by Thomas M. Pomroy, 1814
[Early Vermont Imprint]  3rd. ed , corr. and considerably enlarged.  Bound in modern cloth. Good binding and cover. Chips, with loss to title margin. Gash along bottom edge. Loss to the bottom 1/4 of p. 33-34. p. 83-84 has an old tear that has been crudely stitched.  Scattered staining.  
Contains the story of Susannah Johnson (1729-1810), who was captured by Abenaki Indians.  "Mrs. Johnson and her companions were taken prisoner at "No. 4", now Charlestown, N.H., in a raid of Indians from St. Francis, Canada, in Aug. 1754." - Shaw et Shoemaker, 31664. She was nine months pregnant at the time (she named her baby Captive). The Indians then sold her into slavery in Quebec. She was eventually ransomed and freed four years later.  Johnson edited the second edition of the story of her ordeal, this third edition contains additional information added after her death.   "One of the most interesting of all the Indian captivities." - Sabin. Ayer, 39-40.  First published in 1796, 2nd ed. in 1807.