A Monograph of the Work of McKim Mead & White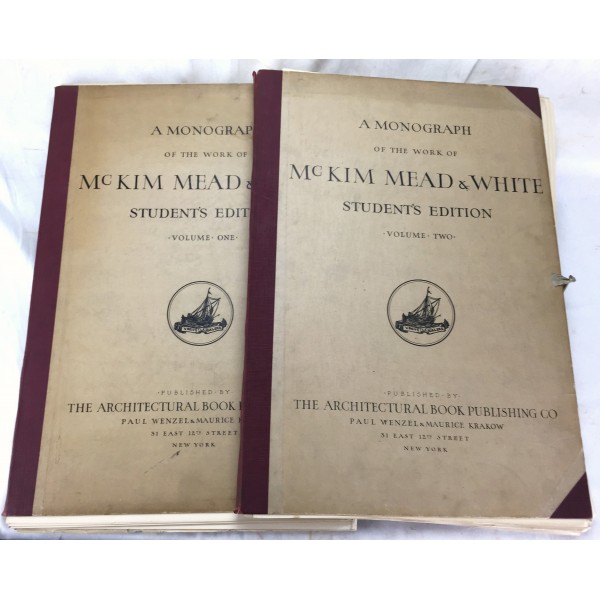 A Monograph of the Work of McKim Mead & White, Student's Edition, Volumes One and Two (I and II)
McKim Mead & White
Architectural Book Pub. Co., 1925.
2 volume set. Illustrations, plans ; 53 cm. 2] p.l., plates 1-69; [2] p.l., plates 70-136. Folio, 51 x 35.5 cm. Loose in publisher's portfolios, as issued. Original quarter cloth over boards. First Edition. A monograph of the work of the firm of McKim, Mead and White, which played a major role in the development of the classical revival in American architecture.
Their work applied the principles of Beaux-Arts architecture, the adoption of the classical Greek and Roman stylistic vocabulary as filtered through the Parisian Ecole des Beaux-Arts, and the related City Beautiful movement after 1893 or so. Its vision was to clean up the visual confusion of American cities and imbue them with a sense of order and formality during America's Gilded Age. See: Broderick, Mosette (2010), Triumvirate: McKim, Mead & White: Art, Architecture, Scandal, and Class in America's Gilded Age. This is an oversized or heavy book, that requires additional postage for international delivery outside the US.