A History of All Nations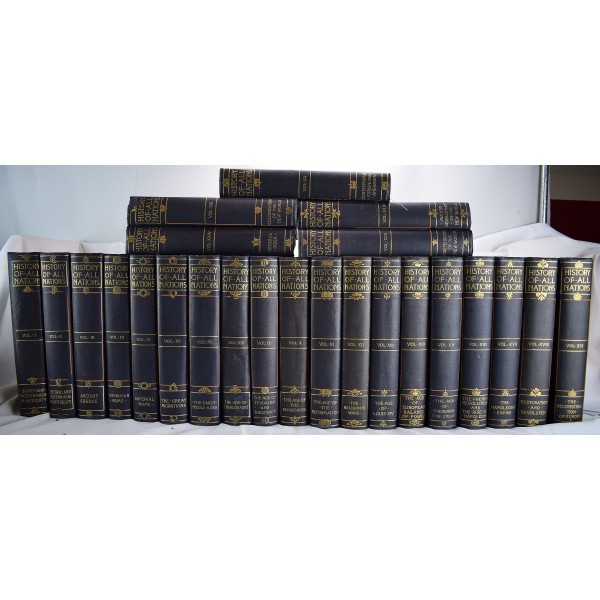 A History of All Nations from the Earliest Times; Being A Universal Historical Library. 24 volume set
Various Authors
Philadelphia: Lea Brothers, 1905.
24 volumes, complete. Original blue cloth, gilt vignettes to front boards. Rubbing. Volumes slightly shaken, a few hinges cracked. Bookplates and blindstamps. A few plates loose. Scattered pencil marginalia. 

I. Egypt and Western Asis in antiquity.--II. Central and eastern Asia in antiquity.--III. Ancient Greece.--IV. Republican Rome.--V. Imperial Rome.--VI. The great migrations.--VII. The early middle ages.--VIII. The age of Charlemagne.--IX. The age of feudalism and theocracy.--X. The age of the renaissance.--XI. The age of reformation.--XII. The religious wars.--XIII. The age of Louis XIV.--XIV. The age of European balance power.--XV. The age of Frederick the Great.--XVI. The French revolution and the rise of Napoleon.--XVII. The Napoleonic empire.--XVIII. Restoration and revolution.--XIX. The reconstruction of Europe.--XX. Contemporary Europe, Asia, and Africa.--XXI. Colonization of the New World.--XXII. Independence of the New World.--XXIII. Modern development of the New World.--XXIV. General index.
This is an oversized or heavy book, that requires additional postage for international delivery outside the US.