A Complete Treatise on Electricity, in Theory and Practice; with Original Experiments. (2 volumes)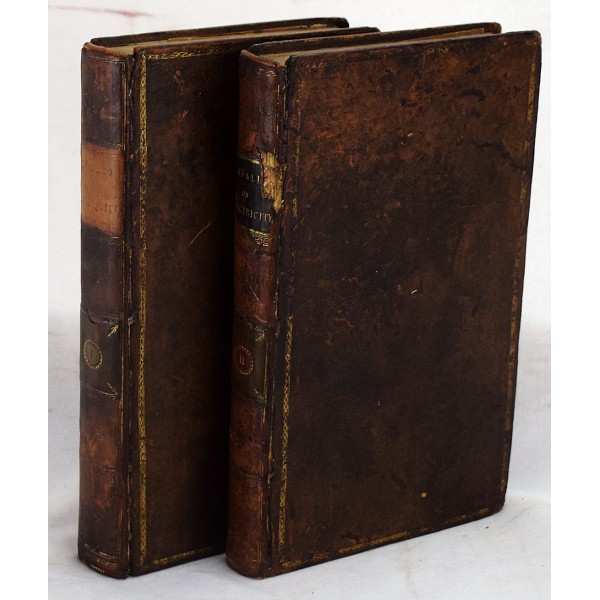 A Complete Treatise on Electricity, in Theory and Practice; with Original Experiments. (2 volumes)
CAVALLO, Tiberius (1749-1809).
London: C. Dilly, 1786.
2 volume set.  Third ed. London: C. Dilly, 1786.   Bound in worn contemporary calf. Hinges cracked, chipped.  Scattered foxing. 5 engraved folding plates.  Charles Taylor's contemporary, manuscript book plates in both volumes.  
  Cavallo was an Italian physicist and a fellow of the Royal Society.  Initially a merchant, he embarked on scientific pursuits of discovery and natural philosophy.  "Tibero Cavallo, a Neapolitan settled in London where Volta met him in the spring of 1782.  Cavallo had come to the metropolis in 1771 to study commerce, and remained to become the leading English electrician of the 1780s and a prolific writer of authoritative textbooks on natural philosophy, particularly electricity." (Heilbron, Electricity in the 17th & 18th Centuries, p. 421-422).  "Cavallo's first studies (1775–1776) concerned atmospheric electricity, which he explored with Franklin kites and with improved detectors of his own invention, fashioned after Canton's pith-bail electroscope. Although little came of his investigations (beyond the intelligence that rain often carries a negative charge), they required a course of self-instruction that culminated in Cavallo's most important work. A Complete Treatise on Electricity in Theory and Practice (1771). A second edition, with revisions, appeared in 1782 and a third, in three volumes, between 1786 and 1795. An excellent compendium, the Treatise served the needs of both the neophyte and the initiate, who found in its appendixes valuable details about medical electricity; about Beccaria's obscure theories; and about Cavallo's forte, the design and operation of electrostatic instruments." - Dictionary of Scientific Biography.  Bakken p. 49.