A Complete Genealogical, Historical, Chronological and Geographical Atlas; Being a General Guide to History, Both Ancient and Modern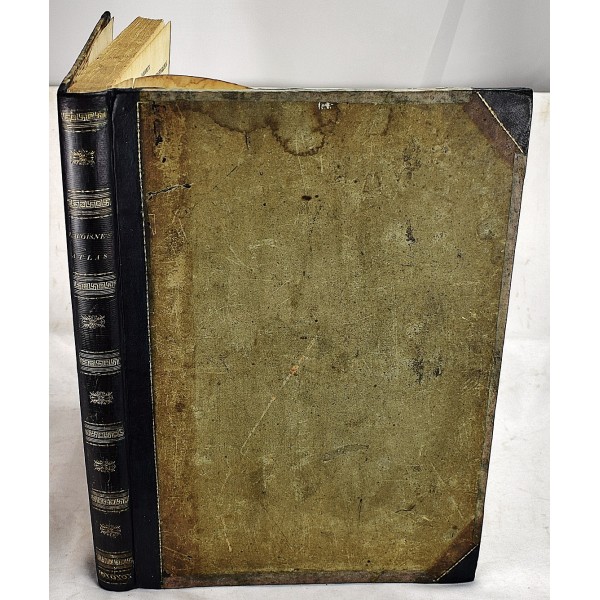 A complete genealogical, historical, chronological and geographical atlas; being a general guide to history, both ancient and modern: exhibiting an accurate account of the origin, descent, and marriages of all the royal families ... the whole forming a complete system of history and geography
C V Lavoisne; C Gros; Jehoshaphat Aspin; E Paguenaud
Philadelphia, Published by M. Carey and Son; printed by T.H. Palmer, 1820
Second American edition, published in the same year as the first American edition. Folio, 46 x 34 cm, (17 1/2 x 11 7/8 inches). Bound with contemporary gilt letter spine over boards. Rebacked, with original leather spine retained. 5 preliminary leaves, 71 plates (part double; including maps, tables) of which 28 are double page maps. Maps nos. 38, 43, 46, 51 and 71 are by E. Paguenaud; no. 68 by John Melish. Nos. 17, 50, and 70 are single leaves with text on both sides. Maps and tables colored by hand. Occasional foxing. Four maps of America. The map of the United States by John Melish is particularly notable, because it includes detailed views of the Missouri and Columbia Rivers based on information from Lewis and Clark's expedition, and also includes the new state of Missouri.
Rumsey 1642. Phillips 131. Wheat Transmississippi 338 (map of the United States).
This is an oversized or heavy book, which requires additional postage for international delivery outside the US.