A Collection of the State Papers of John Thurloe, Esq. Secretary, First to the Council of State and Afterwards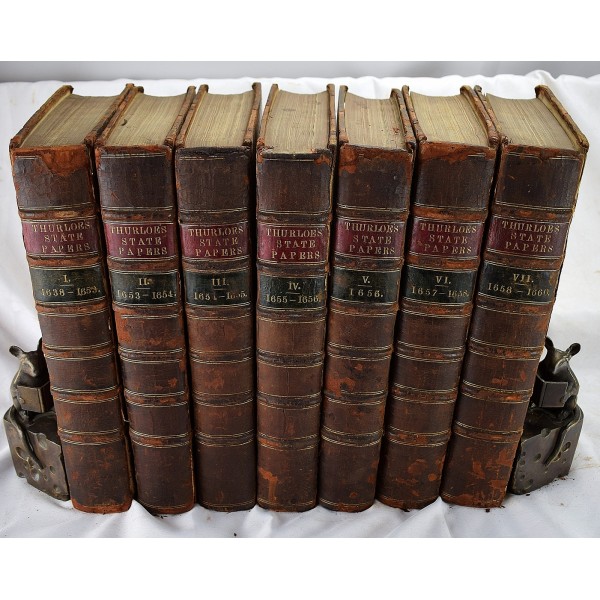 A Collection of the State Papers of John Thurloe, Esq. Secretary, First to the Council of State and Afterwards
Birch, Thomas; John Thurloe
London: Fletcher Gyles, 1742
7 volume complete set. Folios, 35 cm. Bound in contemporary calf. Gilt ruled, 7 spine compartments. Red and black leather spine labels. Volume 1 and 7 front boards detached. Spine joints cracked. Gutters cracked. Pages are unmarked, with some scattered foxing. x, [4], 768, [32]; [2], 744, [26]; [2], 755, [19]; [2], 775, [29]; [2], 795, [29]; [2], 876, [12]; [2], 915, [11]pp Suffield Crown book plate.
> Thurloe's history covers 1638-1660. John Thurloe was a secretary to the council of state in Protectorate England (1652 to 1658) and spymaster for Oliver Cromwell. In 1653 he became head of intelligence and developed a widespread network of spies in England and on the continent. These included the Dutch diplomat and historian Lieuwe van Aitzema, the mathematician John Wallis, who established a code-breaking department, and diplomat and mathematician Samuel Morland, who served as Thurloe's assistant. Thurloe's service broke the Sealed Knot, a secret society of Royalists and uncovered various other plots against the Protectorate. In 1654 he was elected to Parliament as the member for Ely. He supported the idea that Cromwell should adopt a royal title.
Due to his position as Postmaster General, his spies were able to intercept mail. With this network he exposed Edward Sexby's 1657 plot to assassinate Cromwell and captured would-be assassin Miles Sindercombe and his group. In 1657 Thurloe became a member of Cromwell's second council, as well as governor of the London Charterhouse school, and in 1658 he became chancellor of the University of Glasgow. After the death of Oliver Cromwell in 1658, he supported Cromwell's son Richard as Lord Protector. Later that year various parties accused him of arbitrary decisions as head of intelligence, and he was deprived of his offices. He Reinstated as a Secretary of State on 27 February 1660, he resisted the return of Charles II. "These papers form an excellent history of Europe during this period, and are at once a proof of Thurloe's abilities as a statesman and his excellence as a writer." - Lowndes V, page 2682.
Contents: v. 1. Papers from the year 1638 to 1653 --v. 2. 1653-1654 --v. 3. December 1654 to September 1655 --v. 4. September 1655 to May 1656 --v. 5. 1655 [i.e. May 1656-January 1657] --v. 6. 1657 to 1658 --v. 7. 1658 to 1660.
[Protectorate / Cromwellian Great Britain / English Civil War]
This is an oversized or heavy book, which requires additional postage for international delivery outside the US.