A Collection of Senate Procedural Books From the Personal Library of Senator James L. Buckley [Signed/inscribed to Buckley] (6 Volume set)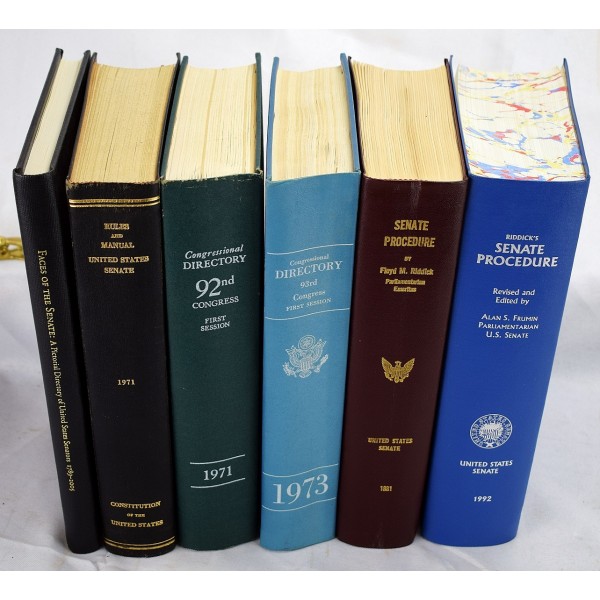 A Collection of Senate Procedural Books From the Personal Library of Senator James L. Buckley [Signed/inscribed to Buckley] (6 Volume set)
Floyd M Riddick; United States. Congress. Senate; Heather L Moore; Emily J Reynolds; Alan S Frumin; Robert C Byrd;
U.S. Government Printing Office; Senate; Congress; House of Representatives, 1971
6 Volumes from the personal library of Sen. James Buckley. All volumes signed/inscribed/embossed to Sen. Buckley of New York (US Senator, 1971-1977).
*Important note: All volumes purchased from Buckley's estate.*
Includes: 1) Official Congressional Directory. 92nd Congress, First Session, Convened January 21, 1971. (Buckley's name embossed on front cover in gray); 2) Senate Manual Containing the Standing Rules, Orders, Laws, and Resolutions, 1971 (name embossed in gold); 3) Congressional directory 1973 (Buckley's name stamped in silver); 4) Senate procedure : precedents and practices, 1981 (Inscribed by author Floyd Riddick to Buckley); 5) Riddick's Senate procedure: precedents and practices, 1992 (Inscribed by author Floyd Riddick to Buckley); 6) Faces of the Senate : a pictorial directory of United States Senators, 1789-2005 (Signed by Senator Buckley and includes a note signed (via autopen) by Majority Leader Bill Frist and Democratic Senate Leader Harry Reid).
James Buckley was elected to the U.S. Senate during the Nixon Administration as the candidate of the Conservative Party of New York. In the midst of the Watergate Scandal, Buckley broke away from fellow conservatives to call for Nixon's resignation, to avoid the national pain of the impeachment of a sitting President. Ultimately, Buckley's actions resulted in the resignation of Nixon and the enmity of Buckley's fellow conservatives. Buckley also the lead petitioner in the case Buckley v. Valeo, which defined modern campaign-finance law. During the Reagan Administration he served on the United States Court of Appeals for the District of Columbia.
All volumes clean and crisp. Good bindings and covers.
This is an oversized or heavy book, which requires additional postage for international delivery outside the US.