Journey to Lhasa and Central Tibet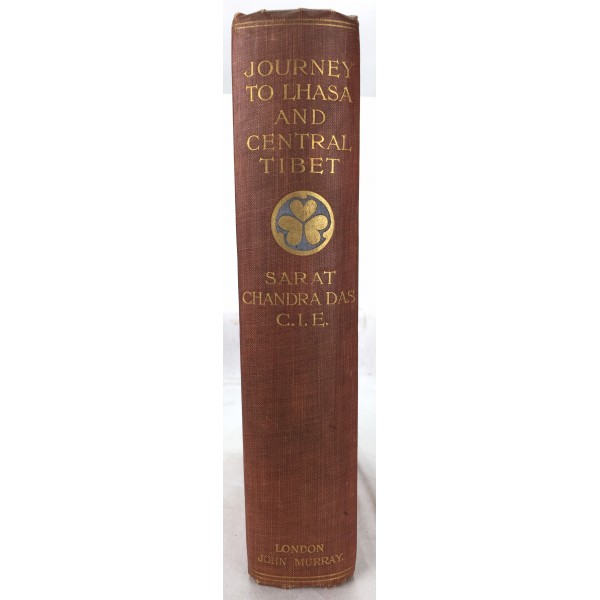 Journey to Lhasa and Central Tibet
Sarat Chandra Das
John Murray, 1904.
Expanded edition. Bound in publisher's decorated red cloth. Gold lettering with gold and blue Tibetan symbol on front. xvi, 368 p. 41 illustrations and maps.  Large color map of Tibet at rear.  NOT Ex-libris.  
Sarat Chandra Das (1849-1917) was a Bengali scholar of Tibet.  Das has been described as "a traveler, explorer...linguist, a lexicographer, an ethnographer and an eminent Tibetologist." (Waller, p. 193)  Das was also a British spy.
Born in Chittagong, Das trained as an engineer in Calcutta.  He became headmaster of the Bhutia Boarding School in Darjeeling.  Bhutia was a school for Sikkimese and Tibetan boys, many of who would be trained to fill a special place in the British colonial regime, the role of a Pundit.  Das became a "pundit" (and an instructor at the school) for British intelligence. 
Pundits acted as a network of British-trained operatives who were tasked to make inroads in the foreboding inner regions of Asia where white embassies could not gain entry.  Tibet and other inland areas were increasingly gaining attention from competing British, Russian and Chinese economic and strategic interests.  Derek Waller speculates that the character of Huree Chunder Mookerjee in Kipling's Kim was based on Das, p.193. 
As a teacher, Das learned Tibetan to speak with his students.  He read the limited books on the region available, notably of Bogle (1773-5) and Manning's travels (1811) to Tibet.  Manning and Bogle were the last successful British explorations of Tibet, a nation who steadfastly resisted western intrusion. 
Das's language ability secured him entry with his colleague, Lama Ugyen Gyasto, to the Tashilhunpo monastery in 1879, as the Prime Minister wished to learn Hindi from him.  In 1881, Das returned to Tashilhunpo and made his way to Lhasa, Sakya, and the Tsangpo River.  There he met with Thupten Gyatso, the 13th Dalai Lama (d. 1933) and returned to Darjeeling with a Yak loaded with over 200 Tibetan manuscripts. 
After Das was revealed to be a British agent, Tibetan authorities increased restrictions on travelers and the Minister who had sponsored his entry was put to death.  
What makes Das's expedition so interesting is that he successfully brought back a wealth of information on an unknown land to the larger world.  The Tibet that Das glimpsed is now gone, with the passage of history and destructive forces of modernity and Chinese domination. 
This book compiles the story of Das's journey, his reports, photographs, diagrams, ethnographic observations, etc of a lost Tibet.  Das went on to become an important Tibetan scholar and author an extensive multi-volume dictionary. 
The British would not successfully return to Tibet until 1903-4, with Colonel Francis Edward Younghusband's exhibition (invasion and massacre of ~5000 Tibetans, Younghusband suffered 5 casualties).  Significantly, Younghusband was the President of the Royal Geographical Society, which notably published the 1902 edition of Das's book.  An interesting, and dark connection to Das's legacy, which speaks to the relationship of knowledge to subjugation. 
Refs: Derek Waller's The Pundits: British Exploration of Tibet and Central Asia. University Press of Kentucky, 1990, 193-209 pp.  Also, Samanth Subramanian's superb piece, The Spy Who Fell for Tibet in the New York Times Magazine, March 20, 2016, p. MM61.  Sanberg, Graham. "Exploration of Tibet Its History & Particulars from 1623 to 1904." Thacker Spink, 1904, 163-172 pp.  Peter Hopkirk, The Great Game: The Struggle for Empire in Central Asia, Kodansha, 1992. Yakushi D55, Yakushi D356. Marshall 1459