An American dictionary of the English language (2 Volume Set) (1st Edition of Noah Webster's Dictionary)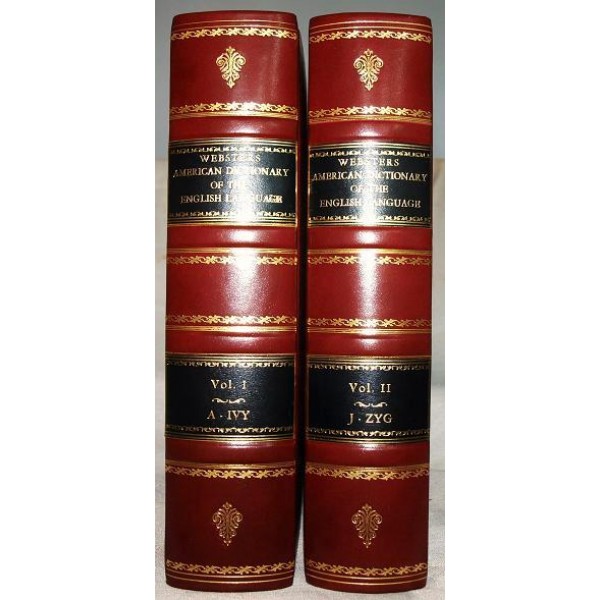 An American dictionary of the English language: intended to exhibit, I. the origin II. the genuine orthography III. accurate and discriminating definitions (2 Volume Set)

Noah Webster

New York : S. Converse, 1828.

2 volume set. 1st ed. Fine bindings.  Full red Moroccan leather binding. 4 raised bands, gilt ruled and embellished.  Black leather spine labels. Fine binding and cover.  Hand-made marbled end pages. Portrait of Webster. Contemporary owner's names on FEP up to title page. Eatonton, Georgia.  Some tanning and scattered foxing. Additions leaf at end of volume.
Webster's dictionary was a monumental work which took 26 years to complete.  Webster learned 28 languages to evaluate etymology.  His dictionary contained nearly 70,000 words, 12,000 of which had never appeared in a dictionary before.  (Noteably: skunk, squash, hickory, and chowder. )  Webster's dictionary was extremely important in establishing standardized definitions and spellings for American words and usage; such as color v. colour and music v. musick.  "This dictionary almost at once became, and has remained, the standard English Dictionary in the United States marked a definite advance in modern lexicography, as it included many non-literary terms and paid great attention to the language actually spoken." PMM, 291
Refs: Grolier, 100 American, 36. Printing and the Mind of Man 291. Sabin 102335. Skeel 583. HBS 64738.